Bankruptcy and Debtor Education Course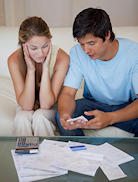 Welcome to our Financial Management Course. This 2 hour course was developed by the AAA American Education, Inc., and is approved for bankruptcies filed in Florida, Georgia, South Carolina and Texas.
The bankruptcy process is often a very difficult time in an individual's life. Our course will help you cope with the stress associated with the bankruptcy process and provide you valuable information about your financial management going forward. Our court accepted online Bankruptcy Course covers a wide range of topics and many helpful resources for anyone that is going through a bankruptcy case. Topics covered in the course include:
Budget Development
Proven Money Management Techniques
Use of credit and credit cards
Consumer information
100% Completely Online Course
The online bankruptcy course is completely flexible and designed to fit effortlessly into your schedule. You can complete the course in the comfort of your home, or whenever and wherever you want - all you need is a computer and your login information!
You don't have to complete the course in one sitting - our website remembers the section you last completed and puts you right back where you left off. Whether you need a day, a week, or even a month to complete your course, it will be right here available to you. And remember, if at any time during the process you need assistance, our customer support team will be happy to assist you.
Certificate of Completion
When filing for bankruptcy, whether individually or jointly, each individual person is required to attend and complete a Financial Management course. Each person will receive their own certificate.
If you are a couple filing bankruptcy and both of you need to take the course please call customer support at 800-800-7121 to receive a special package price for both people.
AAA American Education, Inc., is an approved provider by the Executive Office of the United States Trustee as a bankruptcy debtor education provider. AAA American Education, Inc., is approved to issue certificates evidencing completion of a personal financial management course in compliance with the Bankruptcy Statutes.
---
Online Bankruptcy Course - Additional Information
Need technical assistance or information regards your Online Bankruptcy Course Completion Certificate? Please contact the ASI Support Center at 800-800-7121. You can also call our regional offices in Orlando, in Kissimmee or in Tampa with questions about our Courses.