The Classroom Aggressive Driving course is provided in a relaxed seminar style format. This allows you to have direct contact with a certified instructor and have a forum to discuss topics with other students. The seminar style courses offers a highly social class with plenty of interaction among participants.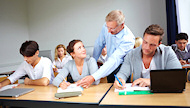 The course is divided into multiple sessions and topics. Sessions are 50 minutes in length with a 10 minute break once an hour. While there is no test required to complete the Aggressive Driver class, students are encouraged and expected to actively participate in the seminar discussions in order to receive their Completion Certificate.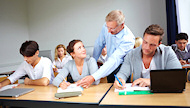 The Florida 8 hour Aggressive Driving course enlightens students in discovering how individual personality traits, their attitudes towards the driving environment, stress, anger management, and time management all play a part in their driving behavior, often causing them to be aggressive drivers.
Nations instructor's are committed to educating our students. Our Instructors keep your attention and will arm you with information about traffic law and other important factors to help you stop receiving Traffic Tickets. Sorry, if you are looking for boring Videos, students will not get those here! One thing is guaranteed, students leave our classes with a different perspective about the driving environment, plus positive thoughts and techniques to avoid additional traffic violations.